WP2 Gender
Gender Equality
WP2 goals
The goal of Gender Equality is to promote further inclusivity of women in the tunnelling industry (including Research and Development). This output will also refect the EC Strategy 2020 for greater inclusion of women in the workforce.
Through the NeTTUN Gender Equality plan, and thanks to the organization of different events, partners hope to attract more women to the construction engineering and research and development sectors. We can foster internally the Consortium and externally, through Dissemination, a celebration of women of different nationalities working together on this Europe-wide project with well targeted activities.
Gender Equality Committee:

From left to right, Gender Equality NeTTUN members Committee: Vania Dimitrova (School of Computing, Leeds), Grazia Di Mucci (MetroC), Anne Gourdon (NFM Technologies, Leader of the WP), Guilia Viggiani (University Tor Vergata) and Nicoletta (MetroC). Not present on this picture, Bénédicte Martin (Ecole Centrale de Lyon, Coordinator) and Magali Shivre (Systra).
We also created in NFM Technologies, leader of this WP, an internal committee with a real implication and a strong involvement of engineering women: Anne Meca (Calculation Department Manager), Floriane Robert (Tender Manager) and Valérie Chiffe (Engineer).

From left to right, Gender Equality NFM Technologies members Committee: Anne Meca, Valérie Chiffe, Anne Gourdon, Floriane Robert and Anne Brissaud (Marketing and Communications Manager)
Work done for the first period:
Our objective is to share the professional experience of women who have top level of responsibility in industrial companies, or full professor in Researcher, engineer, students in research… with young students, in order to show them the interest, the advantages and the peculiarity for a woman to work in tunnelling world, and to have a job which could be consider as a "masculine" one.
We want to encourage young students in technical and scientific studies.
Different events have been organized in that way:
-          A questionnaire has been sent to all NeTTUN partners to make a view/photo of the place of women in Management or in Universities → Results of this survey has been exposed in Brussels, NeTTUN Progress Meeting, in March 2014 by       Anne Gourdon.
-          Visit of NFM Technologies factory in June 2014, while a tunnelling machine has been assembled before the delivery. Anne Meca, Floriane Robert, Valérie Chiffe and Anne Brissaud from NFM Technologies led this meeting with Anne        Gourdon, WP2 leader.
-          A video interview of Anne Meca, Calculation Department Manager on NeTTUN Website
-          An interview of one female student
-          A Conference in ECL with NFM Techonologies and BG Conseil the 24th of February
Interview of Anne Meca, Calculation Department Manager in NFM Technologies.
Work done for the second period:
Organization of different events, in order to share with young female students the experience, the doubts, the questions and the interest of engineering women
Conference BG/ECL/NFM Technologies 24th February 2015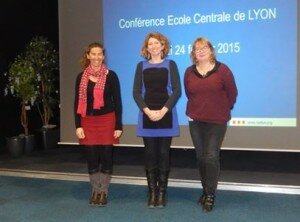 Visit of the work site of San Giovanni Station Line C with MetroC and students of University Tor Vergata URO2 the 14th July 2015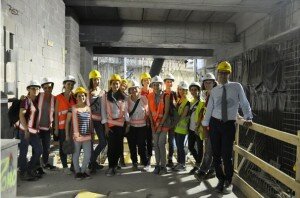 Future steps
We will keep on going in organization of different events such as video interviews, visits in schools, debates…