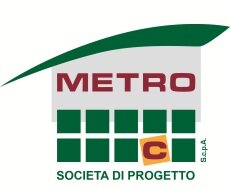 Metro C Roma
METC Key Personnel        METC Project Scope
Metro C SCPA Organisation
General Contractor Metro C S.c.p.A., comprising five Italian partners, Astaldi, Vianini Lavori, Ansaldo STS and Cooperativa Muratori e Braccianti di Carpi and Consorzio Cooperative Costruzioni, has been specifically set up for the construction of Rome's Line C underground. Line C is under "turnkey" construction by Metro C for Roma Metropolitane which works on behalf of the Municipality of Rome. Metro C is responsible for all work phases, from design to archaeological excavations, from the construction of tunnels, stations, shafts and trains up to the line start-up phase.
The company has approximately 450 people (15 managers, 255 employees, 180 workers) that provide, since 2006, to the above scope of work.
Rome's Line C subway is among one of the most significant infrastructure projects underway in the world, running through the heart of the city, the project faces logistical challenges that are inevitable when building a critical piece of infrastructure in one of the world's oldest cities. The construction of Line C, Rome's first driverless underground metro, will almost double the area covered by the city's current underground network. Line C's basic route is 25,5 km long, of which 17,6 km are composed of two single railroad underground tunnels. Along the line there are 29 stations with 11 deep "box shaped" stations.
All execution details have been examined and agreed upon with different Authorities, the main Authorities being the Archaeological and Monumental Departments. In order to preserve and protect historical monuments, situated in Rome's downtown area, a Technical and Scientific Committee (CTS with internationally-renowned university professors such as M. Jamiolkowsky, G. Carbonara, A. Burghignoli, K. Kovari, G. Macchi, G. Croci) assists the designers of Metro C by providing a high-level specialist consultancy service in the fields of engineering, geology, conservation and restoration.
15.1 km of tunnels have already been completed along line sections denominated T4, T5, T6A. The construction of Line C's "T3" section, that runs from San Giovanni to Fori Imperiali, in Rome's downtown area of great archaeological, historical and artistic value, will begin next year 2012. This area is characterised by a soft ground condition context and it differs completely from the pyroclastic soil that is part of the volcanic complex situated along the previous constructed sections of Line C. During the construction of section T3, the two TBMs will under cross some monuments and historical buildings which are UNESCO heritage, and in some of them the "compensation grouting" is expected to reduce ground settlements. For the construction of section T3, it is important to expand the understanding of mechanised tunnelling impact on existing structures and develop applicable risk control methods based on numerical modelling analysis, small-scale laboratory modelling and their calibration on real excavation sites.
www.metrocspa.it